Scholarship Opportunities
Most students could use some help paying for college. Weatherford College has several different types of scholarship opportunities to assist you.
WC Foundation Scholarships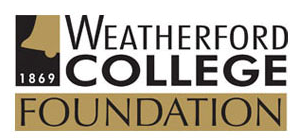 The WC Foundation provides many general academic scholarships for our students. Don't have a 4.0 GPA? Don't worry! Different scholarships are earmarked for different types of students based on many factors: academic history, work ethic, community service, specific geographic areas, etc. We encourage all WC students to apply for foundation scholarships.
Application Process
WC Scholarships is our simple online system that will automatically match you to all WC Foundation scholarships for which you are eligible. This means you just complete one application to apply for all WC Foundation Scholarships!
To apply for scholarships, students must have a WC ID number. If you are a first-time WC student, apply to the college before applying for scholarships.
The scholarship application period is now closed.
A list of scholarship funds can be found here.
If you or someone you know would like to make a gift to support WC Scholarships, you can give online here.
Honor Graduate Scholarships
The valedictorian of any accredited Texas high school is eligible for a one-year scholarship at WC in the following academic year. Valedictorian and salutatorians from accredited high schools in Parker, Wise, Palo Pinto, Hood and Jack counties are eligible for a scholarship covering tuition and fees for two years following high school graduation. Restrictions apply—consult the Financial Aid Office for details.
Performing Scholarships
We offer scholarships to many students representing the college in a variety of athletic, agricultural and fine arts programs. The coach/sponsor/director of each program determines awards.
Questions?
Contact the Financial Aid Office at scholarship@wc.edu or 817-598-6295 for more information.