WC Foundation to establish Pat Cook Scholarship
January 29, 2021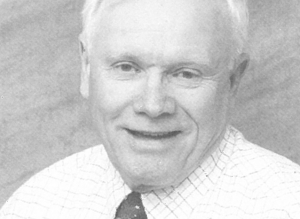 Friends and family of retired Weatherford College instructor Pat Cook are making plans to establish a permanent scholarship endowment in his name in the WC Foundation.
Cook was a popular WC mathematics instructor who spent 36 years at the college, from 1970 until his retirement in 2006. He passed away Jan. 26 at the age of 82.
WC Foundation President Bob Glenn said Cook was his best friend.
"Pat Cook was a sincere, professional Christian man that deeply cared about others," Glenn said. "He loved his Lord, his family, his church and he loved Weatherford College. He was the finest friend I will ever have the privilege of knowing."
Cook served the college on a number of committees and leadership roles over his 36-year career, including as department chair. Shirley Brown, the current chair of the Mathematics Department, taught with Cook for years.
"One semester I had to call him and let him know that the key broke off in the ignition of my car and I could not make it to teach my classes," Brown said. "He called a locksmith that he knew to fix my car and was at my house within 20 minutes to pick me up. I learned quite soon that I could not miss a class.
"He made the department feel like family. He and his wife, Jean, hosted Christmas gatherings, baby showers and any other occasions that came up that he thought were appropriate to get us together to celebrate."
Those interested in contributing to the Pat Cook Scholarship may do so online at www.wc.edu/foundation (enter "Pat Cook Scholarship" in the Tribute Name field), or checks may be mailed to the WC Foundation, 225 College Park Drive, Weatherford, TX 76086 (write "Pat Cook Scholarship" on the memo line). The Cook family will be notified of the names of donors to the fund.