Making a difference through the written word
April 28, 2021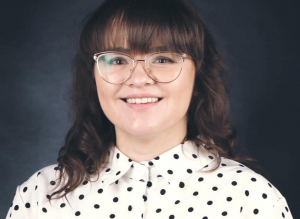 Brandi Addison knew early in life what she wanted to be. She wanted to be a journalist and a difference-maker.
"I was a young girl, probably about 6 or 7 years old. My late grandfather would pull out the Fort Worth Star-Telegram and would read it to me as I sat on his lap," Addison recalled. "He'd always teach me new punctuation marks. At that point, I'd begin writing my own stories to read aloud to my family. My mom said she would catch me writing stories and using my older brother's world history book as a source."
Now, the former Weatherford College student uses the lessons from elders as she has established herself in a reporting career, currently working as a freelancer for the Dallas Morning News.
"I've been writing as a freelancer for The Dallas Morning News a little over a year now. I switched from my full-time position as an education reporter with the Midland Reporter-Telegram when I found out I was having my beautiful baby, Madeline Grace, and wanted to move back home," the Weatherford High graduate said. "I write stories for The News nearly daily — some enterprise, some briefs, some listicles, some aggregation.
"I enjoy human interest stories, but also environmental journalism. This is what I hope can be my full-time role someday. My fascination for environmental science stemmed from my coursework at Weatherford College when I attended Dr. Alison Stamatis's environmental science course."
Following her time at WC, Addison graduated from Texas Tech in 2018 with a Bachelor of Arts degree in journalism with a cognate in health, science and environmental studies. She plans to begin an online program with New York University in the fall for her master's degree in professional writing, focusing on medical, social sciences and environmental writing.
Though still at a young age, Addison has covered several major stories and has never been one to shy away from the challenge of such. When she was a sophomore in college, she covered a police officer shooting at Texas Tech. Within the first seven months of her professional career, in August of 2019, she covered the Midland-Odessa mass shooting, which took place just miles away from her then-home.
With The Dallas Morning News, she's closely followed a Capitol insurrectionist and the case of a schizophrenic man who was killed in Collin County jail. She also broke the news of Frisco city leaders denouncing the comments of an area pastor, which became national news and caused her article to be fact-checked by Snopes.com. And, of course, she's covered the COVID-19 pandemic and the recent winter storm.
Not all her success has been full-length stories. She garnered international attention from a tweet—yes, a tweet—about the "Texas chivalry assignment" from Shallowater.
"I spoke with a journalist with the New York Times. My tweet was included in stories by NBC News, CBS News, Fox News, The Today Show, Huff Post and more," she said. "This was interesting, because most considered me to have 'broken the news,' but really, I was tweeting about it as a mom and citizen—not as a journalist. I realized, then, that I had been recognized as someone reputable… so much so, that even a tweet of mine, would be considered fact."
Addison said there are a few different reasons she chooses to be a journalist.
"First and foremost, it's important to me that all are held accountable for their choices—especially when they impact others. Second, I believe it's important to recognize those who are doing good things, as it may encourage others and ignite a trend of kindness," she said. "Third, when my community is in a crisis, I want them to know that they can trust me to guide them through it. It's important that my audience knows, as they sit in fear, that I will give them the most accurate and up-to-date information that will help navigate their decisions."
Technically, Addison comes from a news/journalism-oriented family. Her dad had a paper route for both the Star-Telegram and Dallas Morning News. However, she's the first to become a journalist and writer.
Addison has been married to Dylan Davis, from Post, for just over two years. They met in the music scene while she was at Texas Tech. Their daughter, Madeline Grace Davis, was born in May of 2020.
Looking ahead, Addison said her goals moving forward include, "Over the next few years, I'd like to focus more on environmental journalism, whether that's independently or part of my contributions to the newspapers I currently freelance for. I hope someday it can be my full-time beat. It's where most newsrooms lack the much-needed coverage."