Bond refinance of WC Wise County to save taxpayers $12.4 million
April 21, 2021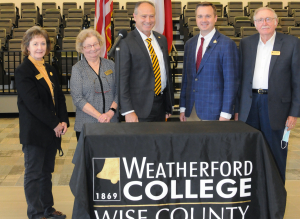 Weatherford College and Wise County officially announced the successful refinancing of $22 million in bonds from an 8 percent interest rate to 2.36 percent Wednesday afternoon at the WC Wise County campus.
The lower interest rate will result in savings of more than $12.4 million over the lifetime of the bonds.
Work on the campus located between Decatur and Bridgeport began over a decade ago, explained Wise County Judge JD Clark. To see the campus become a reality, voters approved a branch campus maintenance tax to pay for construction and operations.
Wise County built the building and leases it to WC. At the time, a partnership like this between a community college and a county was unheard of by bond rating agencies, resulting in a high interest rate of 8 percent.
"This was much higher than either the county or the college had anticipated," Clark said. "And the interest rate has proven to be a continual burden for both parties and a concern for both parties—both to the taxpayers and to the development and expansion opportunities for this beautiful campus."
After years of working toward the goal of refinancing, the county received an A Stable credit rating on the transaction and immediately sold all $22 million in bonds when they were taken to market Tuesday morning.
"This is a game changer," WC President Tod Allen Farmer said. "I remember a little over two years ago, Judge Clark and I met in Fort Worth to talk about getting this process started, and there was obstacle after obstacle, hurdle after hurdle. And let me tell you, you have an exceptional county judge in Mr. J.D. Clark. He truly defends your interests and promotes this county, and the interests of this community. I'm deeply grateful not only to Judge Clark, but also for the great partnership that we have with the Wise County Commissioners."
The new interest rate will result in around $500,000 in savings this year, $800,000 next year and $920,000 each year after that. The bonds will be paid off in August 2034, as originally planned.
"A refinance of this scope and savings does not happen by accident, and it does not happen by coincidence," Clark said. "It happens through our strong stewardship of Wise County and through our strong partnerships with the community and Weatherford College. And so, I'm proud for all of us today whether we're taxpayers, college employees, college students. This is a big day for all of us."