Art and music take over the Alkek this Friday
April 27, 2021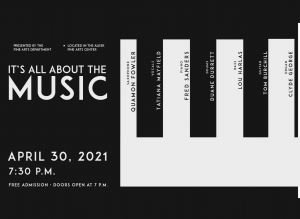 Join Weatherford College this Friday in the Alkek Fine Arts Center for an evening of art, music and celebration.
The fun begins in Texas Hall with the Spring Student Art Reception from 5 to 7 p.m., where guests can view the works of WC students and visit with the artists.
At 6:15 p.m., a presentation honoring Myrlan Coleman will take place on the Alkek stage. Coleman retired in 2020 after a 51-year career at WC.
Then, at 7:30 p.m., the annual It's All About the Music concert begins.
This year's featured performers include Quamon Fowler on saxophone, Tatiana Mayfield on vocals, Fredrick Sanders on piano, Lou Harlas on bass, Tom Burchill on guitar and Clyde George on organ.
Trombonist Vincent Gardner of the Lincoln Center Jazz Orchestra is the featured guest artist.
Gardner studied at Florida A&M and the University of North Florida and performed in jazz bands at Walt Disney World. After Mercer Ellington heard him perform, Gardner was hired for the Duke Ellington Orchestra and moved to New York.
He has also performed with the Count Basie Orchestra, Harry Connick Jr. Orchestra, Saturday Night Live Band and many more.
Gardner taught at the Julliard School of Music and Michigan State University. He is currently a faculty member at the University of North Texas.
All of these events are free to attend.